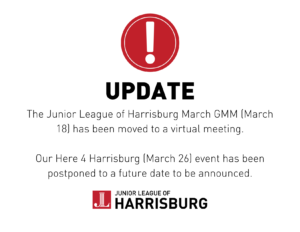 Dear Members,
As the novel coronavirus (COVID-19) continues to impact Pennsylvania, The Junior League of Harrisburg will be making changes to upcoming events. In light of recommendations from Gov. Tom Wolf, we will be moving our March GMM (March 18) to a virtual meeting and postponing our Here 4 Harrisburg (March 26) event to a future date.
The safety of our members, partners, and community remains at the forefront of our minds at this time. The JLH Board of Directors will continue to monitor all reports and updates on COVID-19 and follow all procedures as needed and required by our local and state public health officials.
Full details, including a link for the virtual GMM, will be distributed in the coming days. In the meantime, please do not hesitate to contact me with any questions or concerns. Thank you for your commitment and dedication to JLH and the health and safety of the Harrisburg community.
Sincerely,
Courtney West Guillet
JLH President